More than one thousand million people play videogames. More than 70% of them do it from their mobiles. At the same time, thousands of people die because of diseases which weren't diagnosed. What if we could connect these two realities?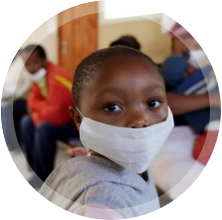 Tuberculosis (TB) is the greatest killer worldwide due to a single infectious agent. In 2013, 9 million people fell ill with TB and 1.5 million died from the disease. Over 95% of TB deaths occur in low- and middle-income countries. An estimated 37 million lives were saved through TB diagnosis and treatment between 2000 and 2013. However, the diagnosis of tuberculosis can be a time-consuming process, taking up to 20 minutes. The standard method is to inspect visually with a microscope a sputum sample (mucus that is coughed up). Technicians have to look for bacilli, bacteria causative of tuberculosis, and count them. But in the countries more affected by this disease there are not enough skilled specialists.
This is where you come in.
We believe that there is so much on-line talent out there that can be used to analyze medical images (while you play a game!) During TuberSpot, we will log all the player clicks (scores) – both bacilli accurately hunted and mistakes – so the analysis of all the games played will allow us to learn (a) how fast and accurate is the bacilli counting of non-expert microscopy players, (b) how to combine the analysis of different players to obtain accurate results as good as the ones provided by expert microscopists.
This concept was already tested with the previous game MalariaSpot. Results revealed that combining 22 games from nonexpert players achieved a malaria parasite counting accuracy higher than 99%. This performance could be obtained also by combining 13 games from players trained for 1 minute.
What is the vision of TuberSpot for the future?
To provide free, ubiquitous, instantaneous and universal diagnose through medical image analysis.
TuberSpot is a kick-off proof-of-concept experiment, which is part of a larger vision devoted to:
– The establishment of a global specialized task force of remote gamers/workers able to perform on-line diagnosis.
– The development of new on-line games powered by artificial intelligence engines able to minimize the time required get a perfect medical image analysis.
– Developing a microscopy-in-a-mobile-phone system for telediagnosis, allowing data transfer directly from field workers and health centers for rapid diagnosis.
Team
You!
Thanks for being part of the Team!
Miguel Luengo-Oroz
Antidisciplinar scientist. MalariaSpot Founder. miguel@malariaspot.org
María Jesús Ledesma
Biomedical Images Researcher
Daniel Cuadrado Sánchez
Videogames Developer. Artificial Intelligence Guru. daniel@malariaspot.org
Sara Gil Casanova
Project Manager sara.gil@malariaspot.org
María Póstigo Camps
Biomedical Images Specialist. maria@malariaspot.org
Paloma Merino
Medical Doctor, Microbiology Service, San Carlos Clinic Hospital
Pablo Concepción
Optics Specialist
Alejandra Ortiz
Biomedical Researcher
Alexander Vladimirov
Developer
 Former Members
Marta García Rivas
Physicist
Álvaro Martínez
Biomedical Engineer
TuberSpot has been possible thanks to the co-finantiation of several entities: Technical University of Madrid, Ahoska Foundation, Biomedical Research Center (CIBER-BBN) and the Spanish Foundation for Science and Technology – Ministry of Economy and Competitiveness.